It is important for any business to understand developments on consumer markets, our rivals' activities and the technological facilities developed for us by various logisticians and IT companies, from smart phones and tablets to modern applications. If we know why, we will also know how to make use of our competitive qualities.
The fashion market is and will be seeing major developments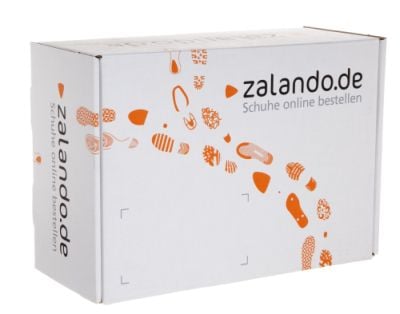 Picture source: www.zalando.de
In Great Britain, it is believed that by the end of the decade at least half of traditional fashion retailers will sell more online than in physical shops.
The purely-online retailer Zalando from Berlin, provider of fashion, footwear, home accessories and cosmetics, has in a mere four years outgrown retailer OTTO, which has been on the market for 60 years. Zalando is now present in 14 European countries and is creating 1.5 billion euros worth in sales.
A few months ago, they opened their first own logistics warehouse with an area of 120 thousand square metres (approximately 16 soccer fields) and are employing around a thousand people. Special features of their service include free delivery and the option of free product return within a hundred days. They draw their strength from economy of scale.
Special features of fashion sales
The first special feature of fashion is strong brands that are like lighthouses (attracting looks and transactions).
Then there are fashion customers, who are typically young, though mature customers are not rare either. They are digitally competent (multi-channelling) and e-communicative by nature. In order to hear, understand and cater to them, we need to be where the dialogue is taking place, i.e. on social networks.
Then there's also the trend of individuality creating the need for the automatisation of multi-channel communication and marketing.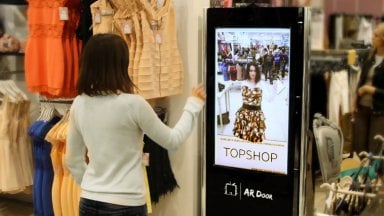 Picture source: www.ar-door.com
On the one hand, we are seeing "tablet" stores with finger navigation (for prior information, shopping or after-sales services), and on the other, shops are introducing virtual fitting for clothes in front of large screens or mirrors and thinking about operating without stocks at the physical location itself, since stocks entail substantial tied-up capital. They are also considering the gradual withdrawal of printed catalogues and the subsidized distribution of branded tablets and associated applications.
With some delay and on a relevant scale, all these modern business models will also be brought into use in Slovenia, whether by foreign or national providers.
How to make use of
Adjustments of retailers to new developments are certainly vital. However, they are not so very simple to make, as the market includes many customer segments we can cater to (we cannot cater to all) and providers come from various starting points, which means there are several different pathways (strategies).
In terms of cost, drawing up a specific plan mostly does not account even for one per mil of a company's five-year sales. It is a small investment that can later protect tens of percentage points in future sales. We should consider not only price pressures but also user experience pressures.