While eCommerce has gained tremendous popularity as a successful business model, it isn't free of roadblocks. Retail logistics account for one of the biggest challenges for eCommerce companies – especially those catering to a vast. With people growing more accustomed and attached to shopping online, customer expectations have grown steeply. Recent trends show that more than 40% of global shoppers would like online deliveries to improve in three aspects – speed, cost, and clarity on delivery times.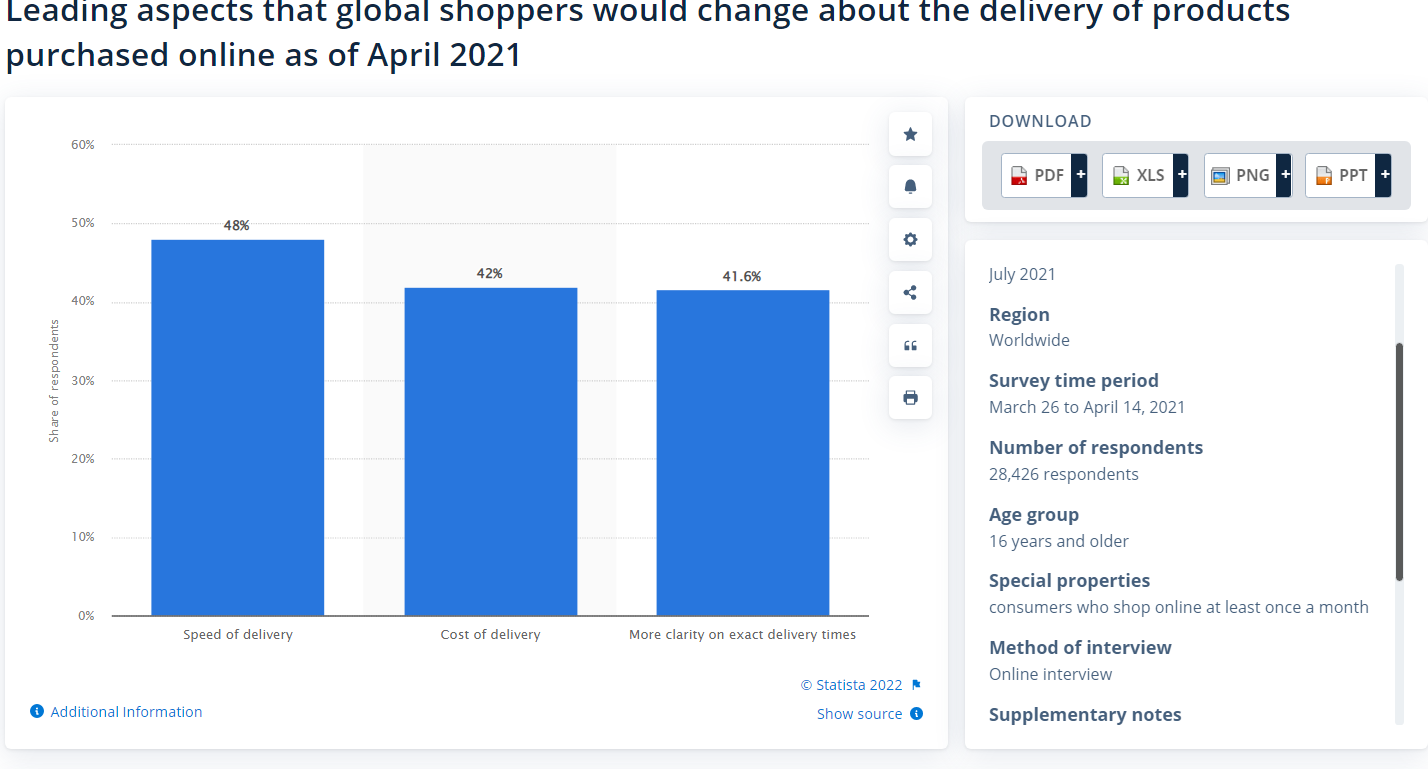 Source: Statista
This graph shows the changes that global shoppers would love to see about product deliveries.
As you might guess, this is especially challenging for new eCommerce businesses to thrive. Organizing a smooth and quick retail logistics system isn't easy. Leading eCommerce companies can operate across the globe only because of their excellent logistical solutions. This article aims to show you the ins and outs of retail logistics and help you run your eCommerce business successfully.
What is retail logistics?
If this is the first time you're trying to set up an eCommerce business, you might find the term "retail logistics" slightly ambiguous. So, let's first clear up what retail logistics means before we proceed to cover the details. The term refers to all the inbound and outbound operations involved in ensuring the smooth flow of products from the manufacturers to the end users. Thus, for eCommerce companies, managing merchandise flow is what retail logistics is all about.
The success of an eCommerce company depends heavily on its retail logistics. A good inbound marketing strategy can drive more customers to your website. However, it won't do much good in the long run if your company suffers from an ill reputation for delayed deliveries. Unless an eCommerce company builds a strong reputation, it doesn't stand a chance against the competition.
Common challenges in retail logistics
Despite how crucial retail logistics is, not every eCommerce business is able to incorporate it properly. Below are some of the common challenges in retail logistics that you should know about.
1. The complexity of the supply chain
The supply chain can sometimes be difficult to navigate through, especially for relatively new and inexperienced business owners. E-commerce companies need to constantly maintain their inventory and update them with every purchase made. To add to the woes, there are often various delays in the supply chain that can make retail logistics difficult. The global supply chain is particularly difficult as cross-border logistics become involved too.
2. Rising consumer expectations
As mentioned earlier, eCommerce businesses are facing increasing expectations from their customers. Less than a decade ago, buyers were more than happy to find that their orders would be delivered within a week. Recently, this has changed completely, with eCommerce consumers seeking next-day or same-day deliveries. This calls for robust retail logistics to meet such delivery expectations.
3. Delivery costs
The costs associated with retail logistics are another challenge. These expenses reflect in the delivery charges, which, in turn, add up to the amount that the customers have to shell out. Assuming that you've had enough online shopping experiences yourself, you likely know how much the delivery charges can sometimes increase the total cost. Buyers not only seek eCommerce websites with the lowest delivery charges, but free delivery is now an important factor as well. Unless you can bring down the cost of retail logistics, you can either include the delivery charges in the cost of the items or shell them out from the company's coffers.
4. Inventory visibility
The lack of real-time inventory visibility poses a problem for eCommerce businesses too. You cannot expect your retail logistics to work smoothly if you can't keep track of your inventory. If the inventory doesn't update in real-time, you may end up with buyers ordering items you've already run out of. Besides, inventory visibility is also necessary to restock items before you run out of them. An eCommerce website with tons of items out of stock doesn't really put up the best impression.
5. Cross-border shipping
Cross-border eCommerce comes with a host of challenges of its own. Naturally, shipping products across national borders is costlier and involves more hassle. The best eCommerce websites that allow shopping from different countries work because of their retail logistics strategy. For small businesses, this can sometimes be a huge challenge.
How to address these challenges and improve your retail logistics?
While managing eCommerce retail logistics is daunting, don't let that deter you from expanding your business across the global market. A successful logistics strategy can take your business to new heights, with your delivery services alone growing into a major USP. Here's how you can address the challenges above and improve your company's retail logistics.
1. Diversify your supply chain
Especially for mid and large-scale eCommerce companies, it's always a good idea to diversify the supply chain. This way, you're less likely to be affected by supply chain disruptions. Even if a supplier fails to deliver the products or terminates a contract unexpectedly, the rest can help pick up the slack. This is especially important for eCommerce businesses selling internationally sourced goods. A natural disaster, political turmoil, or war in another corner of the world can severely impact your supply chain.
2. Incorporate digital inventory solutions
Tracking and managing the inventory of an eCommerce business takes a lot of effort, but it doesn't have to be a manual task. Incorporating digital inventory management solutions can optimize the entire process, resulting in faster and smoother deliveries. Here's a case study on solving retail logistics challenges by incorporating digital solutions to give you a better idea. Digital logistics also support multichannel retailing and offer business owners a better overview of their supply chains. The global logistics automation market is projected to reach USD 133 billion in 2030, growing at a CAGR of 10.7%.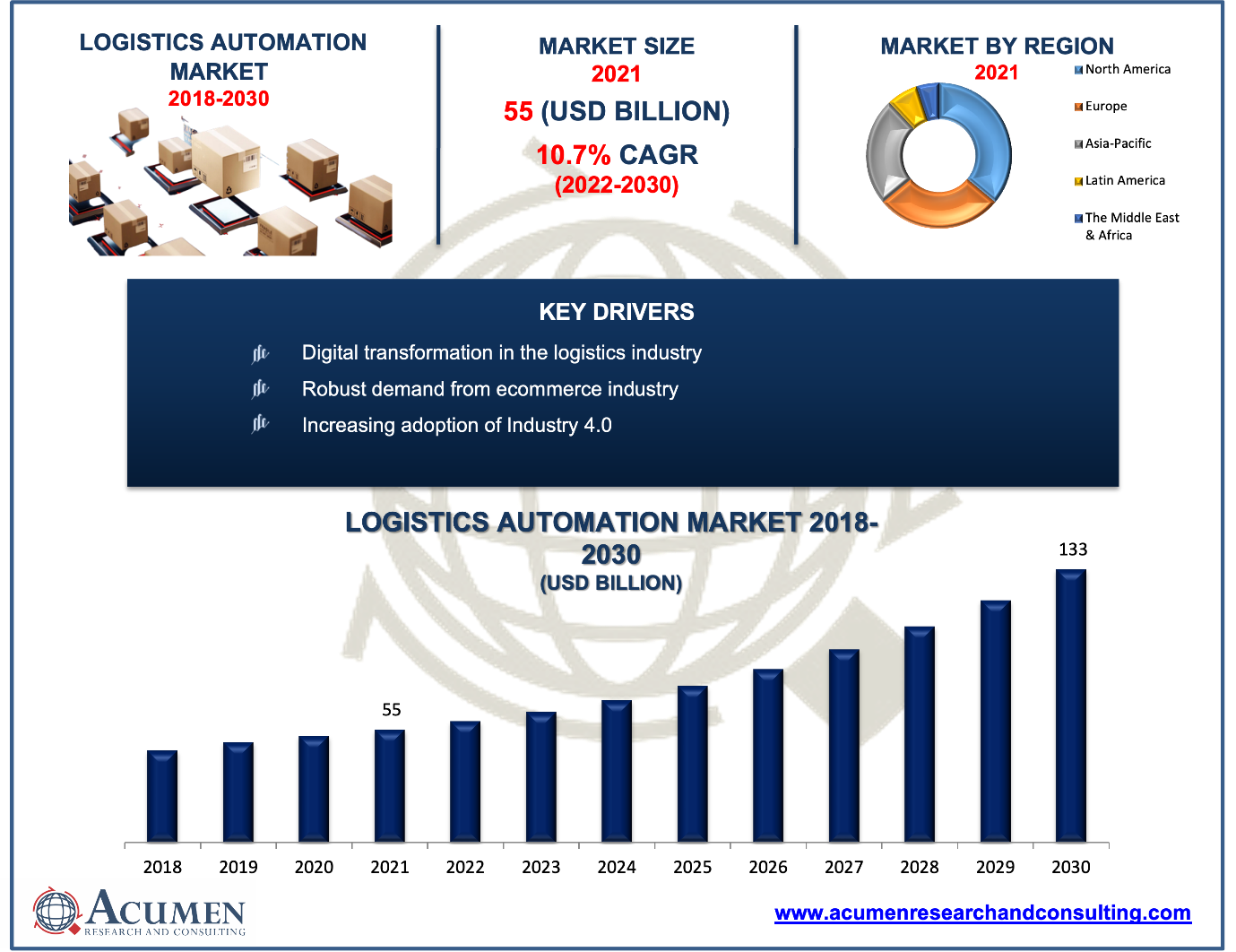 Source: AcumenResearchAndConsulting
The graph shows the past logistics automation market trends, as well as the expected growth up to the year 2030.
3. Outsourcing retail logistics
So, managing your retail logistics is difficult, but what if you didn't have to do it? What if you could get a third-party company that specializes in logistics to handle it? Outsourcing professional logistic partners have become a relatively common trend among eCommerce retailers. In fact, the retail logistics market in North America is expected to grow at a CAGR of 12.3% from 2022 to 2030. By getting experts to take care of your retail logistics, you can stay assured that everything will work out fine. Besides, it also saves you a lot of effort compared to having an in-house logistics management team.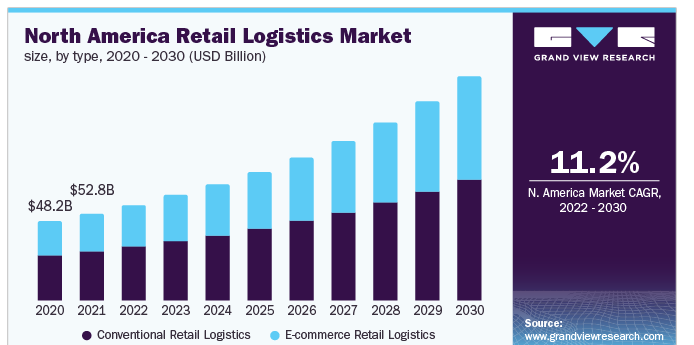 Source: GrandViewreSearch
This graph shows the growth of the North American retail logistics market
4. Leverage predictive analysis
Predictive analysis is currently one of the most powerful tools in the hands of eCommerce business owners. These AI-powered solutions constantly track market trends and deliver fairly accurate predictions about upcoming demand and supply changes. This enables business owners to make well-informed decisions in advance. Similarly, predictive analysis can help you plan your retail logistics better too. Analyzing your sales and turnover data can help you get predictive insights and prepare beforehand for the timespans with higher or lower sales than usual.
5. Choose the right tools and technologies
Digitalizing your business model is important, but you must choose the right tools. You need to shortlist the best inventory and logistics management automation solutions and pick them as per your requirements. Even choosing the best eCommerce platform is crucial, too, if you plan to sell through a third-party platform. You need to ensure they support the tools and technologies you plan to use. Besides, the range of countries covered by your chosen platform matters as well – ideally, you'd want an eCommerce platform that delivers worldwide.
Conclusion
It's quite clear that retail logistics is one of the pillars of any eCommerce business – something you can't afford to forget at any cost. Failing to keep up with your customers' expectations regarding timely and affordable deliveries can ruin your business. It is advisable to work with experts who have ample experience in retail logistics and formulating logistical solutions.
Regardless of the scale of your business, incorporating the most effective and efficient digital solutions is crucial. The more you automate, the less you worry about logistical bottlenecks. Choose the right eCommerce platforms and the best tools, and it'll solve more than half your problems.
Statistical references:
https://www.acumenresearchandconsulting.com/logistics-automation-market
https://www.globenewswire.com/news-release/2022/07/24/2484739/0/en/Retail-Logistics-Market-Size-to-Garner-USD-622-Billion-Revenue-by-2030-Fueled-By-Increased-Worldwide-Trade-Activity.html
https://www.statista.com/statistics/1274950/global-online-shoppers-wished-changes-on-delivery/
Author Bio:

Fahad Khan is a Product Manager and digital marketing enthusiast who works at Ubuy Technology. Content marketing, PPC, email, and social media marketing are among his areas of expertise. He has been exploring the field of digital marketing to share his pearls of wisdom with the whole world. He enjoys working on different niches and creating valuable content for readers.