Inbound marketing: complementing the in-house marketing team of Celtra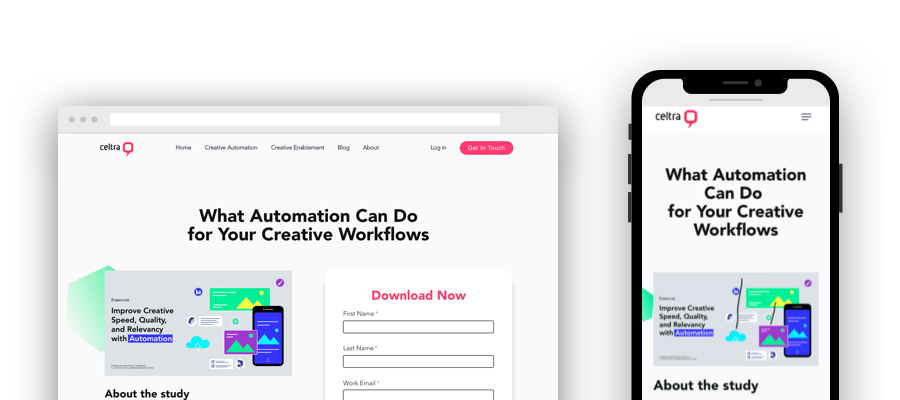 What services did we include in this project?
Campaign management
Hubspot integration
Maintenance and support
User experience design
Project management
Optimization services
---
The client
Celtra is a cloud-based, self-service software for optimizing creative production. It helps advertisers to remain relevant across regions, languages, channels, and needs without sacrificing the quality of content or speed of creation.
Celtra serves and markets to customers worldwide. The company was traditionally focused on big players like CNN, Coca Cola, or Unilever customizing its product to meet their individual needs. Recently the company has decided to address a broader pool of enterprise-level advertisers, offering them a saas-based solution with a standardized set of capabilities.
But first, they had to build awareness on the market and attract qualified leads in to make a dent in their business.
Challenge
Celtra established a very focused online presence with clearly defined buyer personas and goals. The company was spending a lot on marketing and advertising; however, it struggled to connect the dots from various channels, which ensued in poor conversion results. Knowing they had to reinforce the campaign management part of their marketing capabilities, they decided to implement Hubspot.
Their next project was a lead generation campaign based on a Forrester research report that shed light on creative workflow automation. Celtra wanted to leverage the report to raise awareness of its automation platform and generate leads.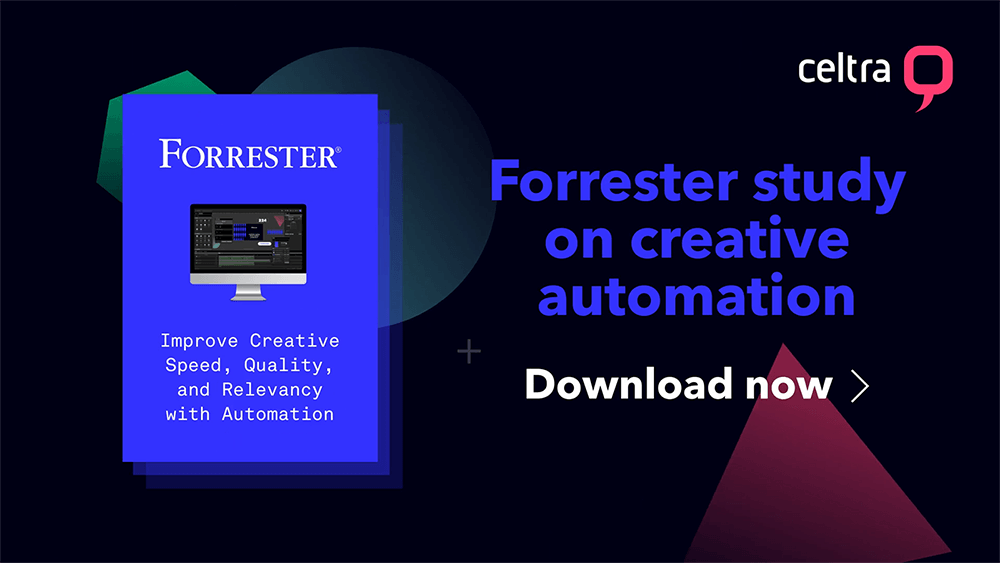 The Celtra's in-house marketing team has already outlined principal elements of the campaign: they set the goals, KPI's, buyer's personas, and key messages.
They reached out to Creatim to help them with Hubspot implementation and campaign management.
Approach
Since Celtra had an in-house content marketing team, the Creatim's role was not a typical project-based engagement. Creatim's was rather a complementing extension of the Celtra's team providing.
Expert knowledge on campaign management,
Hubspot marketing integration,
Technical site optimization
Despite having a general division of tasks between Celtra's in-house team and Creatim, the Campaign was a joint effort. Following the client's guidelines, Creatim redesigned the home page, the Celtra's team built the landing pages, then Creatim tested them and suggested improvements. Creatim managed the upper stages of the funnel, while Celtra filtered out the MQLs and SQLs, and so on.
Overall, we built a strong relationship during the campaign.
Solution
For Creatim, the Forrester campaign was an excellent opportunity to show the agency's inbound marketing capabilities. Once we understood whom we needed to attract, we set up the strategy for:
Content mapping
Social media
SEO - Search Engine Optimization
Multi-channel campaign management
Then we set up Hubspot and Google Analytics to be able to follow all the relevant KPIs.
A well-defined content strategy now moves the leads down the funnel as it should, making it easier for the Celtra's marketing team to spot out the opportunities and build a reliable MQL/SQL base.
Results
The implementation of the HubSpot tooling has resulted in formidable efficiency improvements and a better overview of the Celtra's pipeline. It is now easier to create lead generation campaigns. HubSpot also provided much-needed tools for email marketing, social publishing, forms, reporting, and more.
16.67% in the first month alone, the campaign quickly exceeded the target number of qualified leads.
In the last months, we expanded advertising on social media which resulted in getting more new leads. Paid social was the most successful original source - shows Hubspot lead generation data.
With all the advertising efforts lead count increased by more than 50% comparing 2019 and 2020. The ongoing Forrester campaign met the defined goals.