Not all online shoppers are created alike. Different people have different expectations and goals when it comes to shopping. Designing tailored experiences for various user types on data-based evidence will help you win their trust and boost conversions.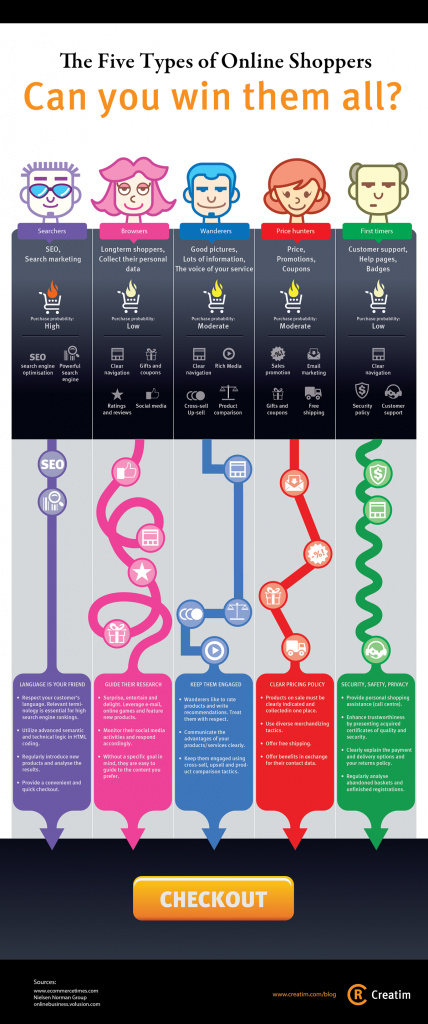 Individual shopping experiences
Nowadays you can choose from a myriad of online tools and principles to attract visitors and convince them to buy. However, users still have difficulty finding products, getting adequate product information and successfully navigating the checkout process. While a good site experience is crucial to all types of shoppers, different tactics of promotion and engagement take on more significance depending on the users' goal and types of products they are after. In the same user shopping for fashion or shopping for groceries may evoke very different user experience expectations.
Loyalty means business
Once you know the mindsets of the different user types you can set up a personalized experience for every type – from savvy searchers to mistrustful newcomers and everything in between. By utilizing predefined profile-specific tactics you can tailor the user experience to their individual expectations and effectively convert them into loyal customers.
Add, mix and combine
The infographic in this blog refers to the five basic types of online shoppers. It may serve as a starting point for the never-ending process of analysing and fine-tuning their individual user experience. It points out a few approaches you can combine to design an effective customer segmentation model for your e-shop.
And of course you will need an ecommerce platform capable of offering your visitors personalized shopping experiences. Here are some thoughts on choosing the right one.