New companies with new business models are coming onto the online market, and some of them actually make it. More conservative traditional retailers are coming too (this time with serious multi-channel marketing solutions) as well as brand owners who have gained access to the end customer through the Internet.
In more developed e-economies, there is an extremely great emphasis on multi-channel marketing (multi- and omni-channel approaches) and e-commerce internationalization. E-business, of course, can no longer do without the influence of social networks and the potential of smart phones, tablets and mobile applications.
Differences in approaches to the Internet between countries and industries (fashion, food, technology, large retailers, producers with brands, start-up companies, global Internet traders…) are considerable. All online retailers, however, face a common challenge – the organisation of optimum logistic solutions.
This year's standard for online and mobile order deliveries in London is 90 minutes, and the aim for 2013 is 60 minutes. German DHL will invest two to three billion euros into higher levels of online and mobile order fulfilment. Order collection at the store's location is developing greatly. According to several projections, the click & collect model will achieve even a one third share in some lines of business.
The size of online trade (products, various tickets, travel, C2C – flea market) in developed and highly competitive markets is currently between six and nine percent and, on developing markets, half those figures (source: Javelin Group, eMarketer, Forrester, OECD). Services and products are now bought online by 40% of Europeans. Over the next five years, the share of online sales in developed markets will increase to 10 – 14 percent, 20 percent of the online trade being international (source: Retail week, 12 Sept. 2012).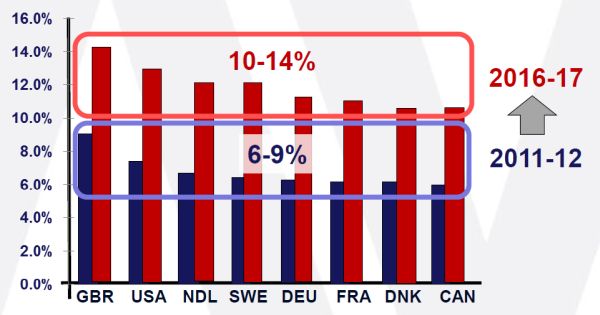 The complexity of fragmented markets, multiple channels, various trading formats and new services will cause competitiveness in commerce to intensify tenfold by the end of the decade. It will involve not just the price but also the user experience, brand and added service. If retail used to be all about location, location and location, it is now convenience, convenience and convenience.